The Cost of Waiting to Buy a Home
A lot of buyers right now have been waiting for the housing market to cool down. But waiting for just the right time to buy a home can be really tricky. Financial experts anticipate interest rates may start increasing in 2022. Add general property appreciation on top of that and the waiting game could cost more than expected. A higher purchase price = higher down payment + higher closing costs + higher monthly payment. Who wants to wait for that?

This chart breaks down a few hypothetical scenarios illustrating what this could mean for home buyers now versus later. The same $300,000 house today, may cost $337,080 in 2023! Waiting could mean missing out on that perfect property – not to mention significant monetary costs: possibly an extra $327 per month – that's an additional $117,720 paid out over the life of the loan!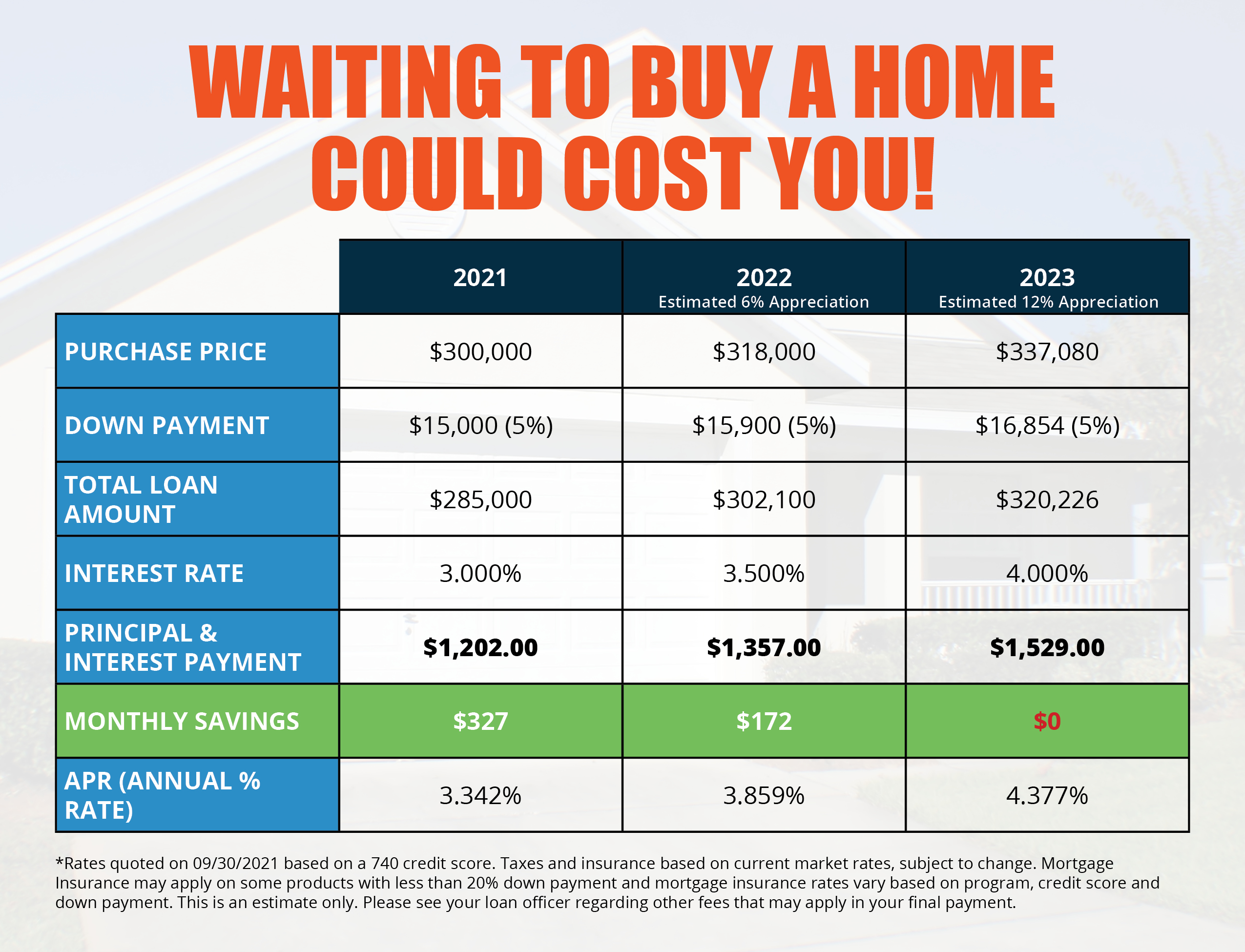 If there is still hesitation about buying now, here are some truths to keep in mind:
Today's prices and rates are known. Tomorrow's are not.
If rates fall yet prices continue to rise, a payment tomorrow could still be higher than what it is today.
If both rates and prices rise, a payment tomorrow could be even higher and harder to qualify for.
Rising prices can also mean larger required down payments. It can be difficult to save money faster than prices rise.

If you are a prospective buyer and are ready to end the waiting game, use our rent vs own calculator to run the numbers. When you are ready, we are here to help you take action on your real estate goals.
Down Payment & Closing Cost Assistance for Frontline workers https://youtu.be/0YxcbMOVxFE Effective June 1st, the Florida Hometown Heroes Housing Program will be enacted to help combat
Read More »
What Can Reverse Mortgage Funds Be Used For? Sellers' markets are a great environment for homeowners interested in reverse mortgages. In this type of market,
Read More »
In a competitive seller's market, buying a home can seem hopeless. You've put in offer after offer and haven't been able to secure a home.
Read More »